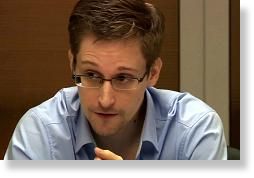 Is there a Snowden effect on American business?
Ever since former National Security Agency contractor Edward Snowden revealed elaborate cooperation between U.S. Internet and telecommunications firms and the nation's intelligence service, Washington has been watching to see whether the companies involved would be hurt.
Cisco this week became the one of the first companies to say publicly that its sales were down as a direct result of the NSA disclosures. The issue is whether overseas clients are reluctant to buy Cisco's telecommunications equipment for fear that the organization would gain access to their systems.
On an investor conference call Wednesday, Benjamin Reitzes of Barclays Capital asked Cisco CEO John Chambers whether the allegations had caused a slump in Cisco's emerging market business, adding, "It is an impact in China."
"I think we're all aware of that." said Robert Lloyd, Cisco's president of development and sales. "It's not having material impact, but it's certainly causing people to stop and then rethink decisions. And that is, I think, reflected in our results."
Not many tech companies are so publicly connecting the dots between Snowden and sales. A search of this year's Securities and Exchange Commission disclosures for mentions of the "National Security Agency" turns up very few references to a Snowden effect.
One company that did make such a statement is eBay. In an October filing, the online auction site said the Snowden leaks could lead European countries to impose tighter regulations that might harm its business.
"There is significant international pressure against the U.S. and the National Security Agency ... regarding the collection of data by the NSA from U.S. companies," eBay noted among a list of potential business risks. "Further restrictions or regulation in the European Union could result as a direct reaction to these events."
Other companies are handling the fallout privately.
A security expert for a global firm told CNBC that the company has explored the idea of repatriating all its corporate data out of the United States to keep it away from the NSA's prying eyes, though the idea may turn out to be impractical.
Telecommunications experts say companies may not have much of a choice. In an interconnected world, telecom equipment is made by companies operating in several nations, many of which have their own rapacious intelligence services.
"It's a bit complicated," said one U.S. national security and telecom expert. "The equipment used by NSA is almost all now made by foreign firms like Alcatel Lucent, Ericsson and Nokia. ... "[and] most other national carriers engage in similar activity. The French may be the most aggressive."
That scenario doesn't seem to allow many options to companies that want to keep intelligence services out of their business and their data. Asked if it is possible for companies to buy "spy-free" telecom equipment anywhere in the world, this expert replied simply, "No."