Cameron and Obama hold crisis talks, both calling for 'political reform'
Death toll reaches 102 and at least 2,000 have been injured
Thousands of prisoners escape from jails as riots go into sixth day
Around 30,000 British tourists were stranded in Egypt today as army planes buzzed low over Cairo on the sixth day of uprisings.
At least 102 people have been killed, more than 2,000 are injured and there were calls for a multi-party democracy to emerge as President Hosni Mubarack's grip on power loosens.
Gangs of armed men attacked at least four jails across Egypt before dawn today, helping to free hundreds of Muslim militants and thousands of other inmates as police vanished from the streets of Cairo and other cities.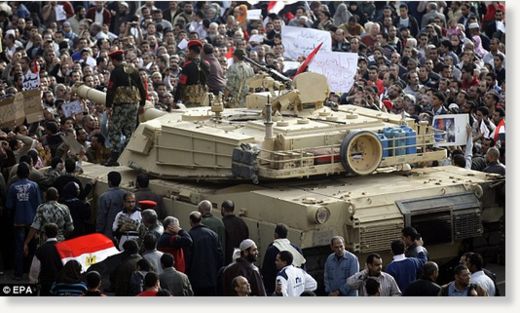 Last night a handful Brits that managed to board flights returning back from Cairo described their relief at escaping the riot-torn country.
They told how vigilantes were protecting neighbourhoods at night after police withdrew from the streets.
Several Britons arrived home on an Egyptair flight at London's Heathrow Airport.
Brendan Keating, 49, an oil worker from Purley, Surrey, who lives in Maadi, in southern Cairo, said: 'Last night the local people organised themselves into groups to protect property because there's no police.
'This morning I had to break the curfew to get to the airport, and had to go through about a dozen roadblocks set up by these people.'
Geoff and Heather Booth, from Dronfield, Derbyshire, whose planned near two-week holiday was cut to just four days because of the chaos.
Mr Booth, 74, said: 'We weren't in the worst part but it was still quite bad. The main thing is that we are home safe.
'We were there for four days, but most of it was spent in the hotel under strict instructions not to go out.
'The holiday company has brought us home and frankly we just wanted to get back.'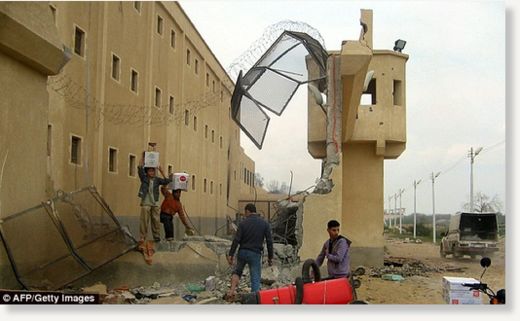 Helicopters were yesterday hovering over Cairo and trucks appeared in a central square where protesters were gathered.
It was the latest show of military might on Sunday in an apparent effort to send protesters back to their homes before a 4pm curfew.
The warplanes flew over the city several times. At least a dozen troop trucks and extra tanks drove towards the square as more protesters gathered in defiance of the curfew.
'The planes are out there to scare the people. It's time for the curfew and no one is going home," a 45-year-old engineer who was protesting in the main Tahrir square said.
'It's clear to me that the army is here to protect Mubarak.'
Amr Moussa, the head of the Arab League, said on Sunday he wanted to see a multi-party democracy emerge in Egypt but could not say how soon that might happen.
Meanwhile David Cameron and US President Barack Obama called for an 'orderly transition' to a democratic government in Egypt.
As the crisis threatening to unseat Egyptian President Hosni Mubarak escalated, the two leaders held talks and agreed that a 'comprehensive process of political reform' was needed.