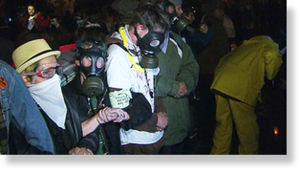 Police Across Los Angeles are on Tactical Alert
Hundreds of Los Angeles Police Officers have moved into the park around City Hall where hundreds of Occupy Los Angeles protesters have refused to leave. They have been given a final order to get out or get arrested.
Officers in riot gear have lined the street near Broadway and 1st Street and some protesters have donned gas masks in anticipation of tear gas or pepper spray. There have not been any conflicts between police and protests, but it's clear that police intend to evict Occupy L.A. from the area sometime overnight.
A group of protesters began marching en masse down 1st Street toward Spring Street. They held candles and chanted, "Move your feet! Occupy the street!" The march was lively but not violent.
LAPD officials confirm that the entire city has been placed on tactical alert while Occupy L.A. protesters face eviction, ending their 60-day occupation of City Hall Park.
The tactical alert means all LAPD officers in every jurisdiction has been placed on alert to assist if necessary, according to a police spokeswoman. Though she would not confirm why the tactical alert was raised, Occupy L.A. protesters near City Hall seem to understand why.
Officers have been spotted handing out flyers around City Hall Park passing out flyers stating that the park closes on 10:30 p.m. By 10:35 p.m., officer had given a third and final order to protesters to disperse. Shortly after midnight, officers issued their final warning to get out or get arrested.
Occupy L.A. activists are calling on protesters to be peaceful and restrained.
Officers at the command station at Dodger Stadium began boarding the 25 city buses staged there about 9:05 p.m. At 11:45 p.m., the buses began moving into the downtown area.
Despite Occupy L.A.'s insistence that they will remain peaceful throughout whatever police confrontation lies ahead, tensions are high inside the camp as protesters wait for the raid they know is coming. Several small fights have broken out inside the camp, including captured by a KTLA 5 news crew.
Other protesters have set up makeshift barricades out of trashcan to try and slow down riot police when they reach their camp.
Meantime, Occupy L.A. protesters have filed for a federal injunction that would prevent police from dismantling their camp, but that did not happen.
The lawsuit filed in U.S. District Court accuses Mayor Antonio Villaraigosa and LAPD Chief Charlie Beck of exceeding their authority in ordering an end to overnight camping at City Hall Park.
The complaint further accuses the mayor and police chief of engaging in "arbitrary and capricious action" in violation of the 1st and 14th Amendment rights by first approving the Occupy L.A. presence, then revoking it without the City Council's involvement.
A judge reviewing the complaint could immediately grant a temporary restraining order against expelling the campers or ask for further argument.
Mario Brito, an Occupy L.A. organizer and plaintiff in the complaint, said the protesters had faithfully responded to all complaints and requests of the city during the 56 days they have occupied City Hall Park.
"Whenever they had issues -- people sleeping on grates and other concerns -- we would almost immediately respond to all of their issues," Brito said.
"Now for the mayor to say 'you have to go' -- this should have been addressed to us. We have demonstrated our willingness to meet all of their concerns."
City Hall park was officially closed at 12:01 a.m. Monday..
Four people were arrested early Monday morning, but the protesters were mostly cooperative and peaceful.