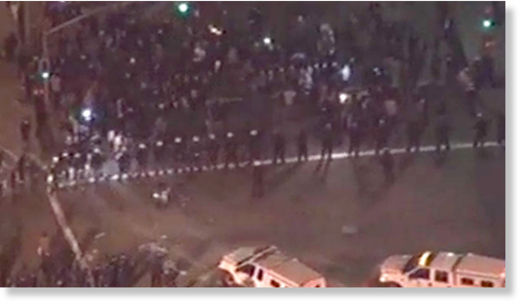 Los Angeles police began tearing down tents in the Occupy Los Angeles encampment Tuesday night, nearly two days after a deadline passed for protesters to clear out, as demonstrators with the movement in Philadelphia marched through the streets after being evicted from their site.
Los Angeles police in riot gear holding batons stood in the street facing a line of protesters as hundreds chanted, "The people united will never be defeated." Someone played the national anthem on a horn as helicopters circled overhead.
More than 1,000 officers who staged for the operation outside Dodger Stadium
were briefed on the potential for violence and the possibility that demonstrators could throw everything from concrete and gravel to human feces.
"Please put your face masks down and watch each other's back," a supervisor told them. "Now go to work."
The officers clad in riot gear with helmets and with white plastic handcuffs hooked to their belts were taken aboard 30 city buses downtown.
At about midnight on the West Coast, the police pushed into the camp, removing sand bags which were used to shore up protesters' tents and arresting at least three people who refused to leave.
Long lines of police in formation could be seen advancing toward the protest camp incrementally, pushing the protesters back toward City Hall. About 500 police in riot gear also flooded suddenly out of the City Hall building itself, squeezing the protesters from both sides.
Police gave three 10-minute warnings for the protesters to evacuate the camp as ordered. It was expected that forceful evictions and far more arrests would follow the warnings.
The operation was planned at night because downtown is mostly vacant, with offices closed, fewer pedestrians and less traffic. But it could make officers more vulnerable.
"It's more difficult for us to see things, to see booby traps," Lt. Andy Neiman, told pool reporters. "Operating in the dark is never an advantage."
Neiman said the force was prepared to deal with demonstrators barricaded in the camp or holed up in trees in the small park.
About half of some 500 tents remained in Los Angles after a Monday morning eviction deadline and the remaining protesters showed no sign of leaving their weeks-old encampment, which is one of the largest still remaining in the U.S. Before 11 p.m., Los Angeles police had closed off streets surrounding the protest encampment.
The action in Los Angeles came after police in Philadelphia gave protesters three warning they had to leave and began pulling down tents at about 1:20 a.m. Wednesday. The eviction came more than two days after Philadelphia's deadline for protesters to remove all structures and belongings from Dilworth Plaza.