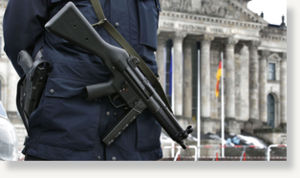 European media reports say a Quebec tourist has been arrested in Berlin after making a Nazi salute in front of Germany's parliament.
Britain's
Daily Mail
newspaper reports a 30-year-old man from Quebec was standing on the steps of the Reichstag with his right arm raised in Hitler's infamous salute as his girlfriend photographed him.
The newspaper says police arrived within seconds, handcuffed the man and took the memory card of the camera.