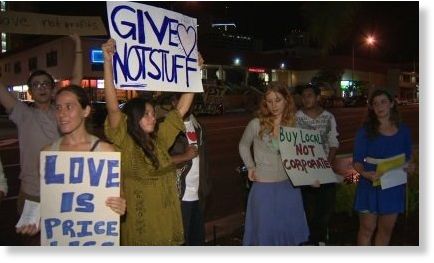 The Occupy Wall Street movement is taking its anti-corporate directly to Black Friday shoppers.
Ten Occupy Oklahoma City protesters were arrested Friday morning after a protest at a Walmart store in Del City, Okla.,
The Oklahoman
reported.
Del City police Capt. Jody Suit told the newspaper that officers working off-duty security jobs at the store called for assistance about 2 a.m. because the protesters were causing disturbances in the back of the store.
One of those arrested, Mark Faulk, 55, of Oklahoma City told the newspaper that he was filming the group's "mike check" - in which one member of the group shouts something and then the others in the group repeat what the speaker said - when "Del City police ran and started tackling people from behind."
Police Lt. Steve Robinson told The Associated Press that no excessive force was used.
Six Occupy Syracuse members were arrested at a protest at Carousel Center mall in Syracuse, N.Y., NBC station WSTM reported Friday.
Protesters had said they would be picketing outside the mall against the "commercialization and extreme over-consumption" of Black Friday, but instead they moved inside. They said they had members on every floor of the mall and had organized a "flash mob" to spread their message.
Occupy protests targeted other retailers across the country.
More than a dozen Occupy Honolulu protesters demonstrated in front of a Walmart store in Honolulu, Hawaii, in the predawn hours, NBC station
KHNL of Honolulu reported
.
They accused Walmart of supporting child labor and suppressing its work force.
"Sweat shops in China and around the world produce these products," said Alala Zusman, one of the protesters. "People are paying low prices at Walmart, and when Walmart came in here, this neighborhood lost a lot of mom-and-pop stores."
Meanwhile, Occupy Eugene protesters were moving from store to store in Eugene, Ore., urging shoppers to spend less money on what they call "Buy Nothing Day," NBC station
KMTR of Springfield reported
.
Shoppers at Valley River Center said they wished the demonstrators, who chanted and sing reworded Christmas carols, would just go away.
"I think it's a waste of time," one shopper said. "People are still buying."
Occupy Seattle planned to hold a rally from noon to 5 p.m. local time at Westlake Park in the downtown retail core, The Associated Press reported. The Seattle group said it was promoting homemade gifts and local businesses as an alternative to what it called "rampant consumerism that plagues society, destroys the environment and supports the 1 percent."
Occupy Atlanta planned to go even further, setting up its own "really, really free market" downtown as an alternative to Black Friday shopping.
Organizer Tim Franzen told the AP that the market, which was scheduled to open in Woodruff Park at 3 p.m. ET, would feature free food, clothing and other items.
He said demonstrators want to focus on the people who are struggling to make ends meet while banks and corporations bring in millions during Friday's shopping tradition.
Source: msnbc