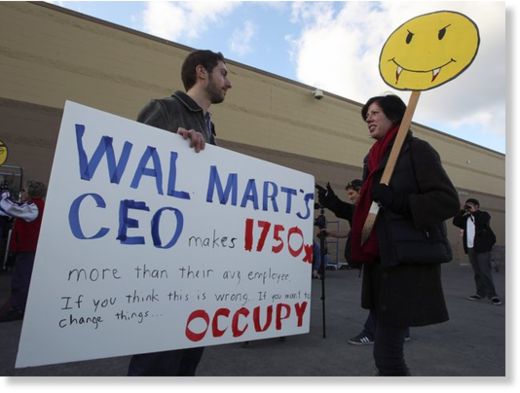 New York - California
In Los Angeles, city leaders hope the seven-week-old Occupy LA encampment will disband sometime next week. More than 480 tents were erected on the lawns of City Hall. The camp has remained largely peaceful since police and city officials established a relationship early on based on dialogue instead of dictates.
Thursday, activist Teri Adaju, 46, said she typically serves dinner to homeless people on Thanksgiving and knows that many at the Los Angeles encampment were just that.
In San Francisco, 400 occupiers at a plaza in the financial district were served traditional Thanksgiving fixings sent by the renowned Glide Memorial Church to volunteers and supporters of the movement fighting social and economic inequality.
"We are thankful that we are, first and foremost, in a country where we can protest," said the Rev. Cecil Williams, the founder of Glide and a fixture in the city's activist community.
Oakland police say that when a truck driver tried to deliver a portable restroom to protesters Thursday at Frank Ogawa Plaza, officers ordered the driver to leave because he had no permit. Police and about 150 protesters squared off; one person was arrested.
Maine
Five people face charges in Portland after police were called to investigate four separate assaults at the OccupyMaine encampment in Lincoln Park. The arrests were announced amid growing concerns over health and safety issues at the park, where OccupyMaine protesters have been camping since early October
Massachusetts
A judge has banned a Framingham woman from the Occupy Boston camp after she allegedly interfered with a domestic violence investigation at the site, failed to appear in court and punched two police officers and kicked another over two separate occasions.
Nineteen-year-old Jade Anderson was arraigned Friday on charges of disorderly conduct and several assault offenses. A Boston Municipal Court judge set bail at $850 and ordered Anderson to stay away from any Occupy Boston activities in the city. Her attorney did not immediately return a call for comment.
Minnesota
Heavy security kept a close eye at anti-Wall Street protesters who showed up at Republican Michele Bachmann's Black Friday book signing at the Mall of America in Bloomington.
The GOP presidential candidate signed copies of her
Core of Conviction
autobiography in a private area of the megamall. At least a dozen members from the Minnesota offshoot of the Occupy Wall Street movement bought copies so they could approach her.
Several uniformed and plain-clothed officers prevented the protesters from bringing in signs and let them into the room one at a time. Bachmann foes and fans alike were subject to bag searches and pat-downs before entering. Reporters were not allowed in the room when the protesters came through.
Anti-Wall Street protesters in Minneapolis plan to erect 99 tents next week in defiance of Hennepin County rules and a federal judge's decision. The Occupy Minneapolis Events Committee says the protesters have the right to assemble and the right to shelter.
The 99 tents relate to an Occupy slogan suggesting that 1 percent of the nation's population controls the wealth and the other 99 percent suffers the consequences.
Nevada
Occupy protesters had a potluck meal on Thanksgiving Day at their campsite near the University of Nevada, Las Vegas. Organizer Sebring Frehner said he was happy to skip his traditional meal at home. "Instead of hunkering down with five or six close individuals in your home, people you probably see all of the time anyway, you are celebrating Thanksgiving with many different families -- kind of like the original Thanksgiving," he said.
New York
In New York, a squabble erupted when police ordered a halt to drumming by protesters at an otherwise traditional holiday meal. About 500 protesters were digging into donated turkey and trimmings at lower Manhattan's Zuccotti Park when police told a drummer to drop playing.
About 200 protesters surrounded a group of about 30 officers and began shouting in the park where the Occupy movement was launched Sept. 17.
"Why don't you arrest the drummers in the Thanksgiving parade?" a protester hollered.
A van rolled up with more officers, but they stayed back as protesters eventually decided to call off the drumming and return to their food. Tensions have run high at the park since campers were evicted Nov. 15.
Oklahoma
A group of Occupy OKC activists were arrested and jailed after a protest at a Del City Wal-Mart store.
Occupy OKC participant Mark Faulk said 10 members of the group were arrested early Friday after conducting a group chant inside the store in the Oklahoma City suburb. Faulk said the protesters were jailed for disorderly conduct, and five of them were released on bond Friday morning.
Faulk contended police used excessive force by tackling and handcuffing participants who were heading toward the exit after being asked to leave by store personnel. Del City Police Lt. Steve Robinson disagreed.
Faulk said the group was protesting wage disparity of store workers with that of corporate officers.
Oregon
Eugene police say Occupy protesters chanted and used a bullhorn during early shopping hours Friday at two Wal-Mart stores; one person was arrested on a trespassing charge.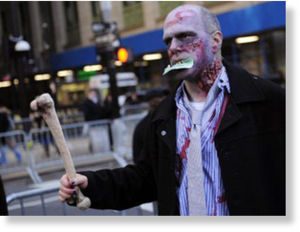 Pennsylvania
Occupy Harrisburg says a member of its group was arrested at a city mall on Black Friday over a zombie outfit.
Lower Allen Township police confirm that a person dressed as a zombie was arrested after refusing mall security's request to remove the facial makeup.
The Capital City Mall bans outfits that hide a person's face. Police say the others agreed to wash off their makeup.
Occupy Harrisburg organizers say members dressed as zombies to protest the consumerism of the celebrated shopping day. They say the protesters walked peacefully through the mall early Friday and did not disrupt shoppers.
Police charged the protester with misdemeanor trespassing.
Washington
Occupy Seattle says it's promoting homemade gifts and local businesses as an alternative to what it calls "rampant consumerism that plagues society, destroys the environment and supports the 1 percent" that controls most of the wealth.