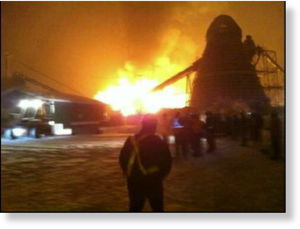 Two people are unaccounted for after a fire and explosion tore through a sawmill east of Burns Lake, B.C., on Friday, officials confirmed.
In a written statement released Saturday by the Burns Lake Native Development Corporation, the Village of Burns Lake and the Regional District of Bulkley-Nechako, officials say two people are missing "according to information from the scene of the incident." No names have been released.
In an interview with Global Television Saturday morning, Burns Lake fire chief Jim McBride said he believed they were probably dead.
Nineteen people suffered minor to serious injuries, Northern Health Authority spokesman Steve Raper told CBC News on Saturday.
Five people have been released from hospital, while seven were taken to the University Hospital of Northern B.C. Prince George. Two others were taken to hospital in Smithers, one was transported to hospital in Vanderhoof and four people with critical injuries were airlifted to hospitals in Edmonton and Vancouver.