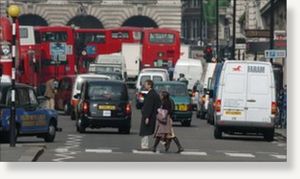 The UK has rejected proposals from the EU which call for a ban on petrol and diesel cars from city centres by 2050.
The European Commission said phasing out "conventionally fuelled" cars from urban areas would cut reliance on oil and help cut carbon emissions by 60%.
But UK Transport Minister Norman Baker said it should not be "involved" in individual cities' transport choices.
"We will not be banning cars from city centres anymore than we will be having rectangular bananas," he said.
Outlining plans for a "
Single European Transport Area
", the Commission said there needed to be a "profound shift" in travel patterns to reduce reliance on oil and to lower emissions from transport by 60% by 2050.