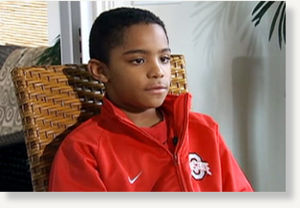 An Ohio school district is in hot water after the mother of a black fifth-grader said her son was assigned to play a slave for a social studies lesson.
Aneka Burton told a Columbus, Ohio, television station that in her 10-year-old son Nikko's social studies lesson, the class was divided into two groups: slaves and masters.
Nikko ended up in the slave group and said the students playing the master role would "look in your mouth and feel your legs and stuff and see if you're strong," according to WBNS-10TV.
His mom, understandably, was furious.
"He felt degraded," she told the television station. "I feel like that was totally inappropriate; it was racist and it was degrading."
Even worse, the incident was not a one-time thing, according to the school district.
After the uproar, a district spokesperson said in an emailed statement to the
Daily News
that the lesson will not be used again.