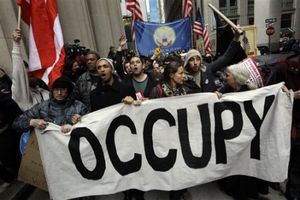 The recent Pew Research report on tensions between the rich and poor gives a road map to the ofttimes unfocused Occupy movement. Since 2009, the study found, there is "a growing awareness of class conflict" among Americans.
Whatever its findings, that the mainstream Pew Research Center would frame the report in the usually verboten language of "class conflict" is itself remarkable. Whenever verbiage such as "class" or "class struggle," let alone "class conflict" is used by academics or politicians to describe the incongruity between democracy and capitalism, it is rejected as Marxist ideological rant.
Even the avoidance of the use of "working class" for the more centrist "middle class" by President Obama led to the farcical cry of Republican presidential candidate Rick Santorum that Obama was encouraging class warfare.
This is hardly surprising, for when Obama attempted to raise taxes on the wealthy for the benefit of the larger populace, he was charged with encouraging class warfare rather than attempting a more equitable distribution of wealth. Although the concept of a fair distribution of assets is democratic, not Marxist, in thrust, and the 1 percent have been waging a rigged undeclared war against the 99 percent for decades, now that the 99 percent have begun pushing back, there is an inevitable cry of foul from the reactionary rich.
Award-winning author and scholar Michael Parenti, especially in his classic
Democracy for the Few
, argues "whatever modicum of democracy the people attain in any society is usually the outcome of a general struggle for a more equitable politico-economic order." With the Occupy movement, that struggle has become visible.
Lest I be charged with advocating some form of Marxist rubric, I believe that while struggle, such as the civil rights movement, is at the heart of the most dramatic social change in the United States, only someone with historical and sociological amnesia would think that revolution will ever hold sway in the United States. The widespread belief of working-class people that they can become part of the upper class and the coming of the computer age renders stillborn any Marxist notion of a violent overthrow.
The savage corporate plunder that led to our current recession, however, seems to have exploded for all time the belief in the existence of a harmonious, prosperous society. Who would argue against the theory that the protest of the so-called 99 percent against the 1 percent is a rebellion of the poor and middle class against the rich based on a recognition that society is stratified?
And that is the essence of class consciousness. Marx thought such class consciousness would inevitably lead to revolution. In 2012 America, it has led instead to a consciousness among the Occupy protesters against a one-sided system of financial exploitation, which in its own way is quite revolutionary.
Ross T. Runfola is an attorney, writer and poet who is a professor of sociology at Medaille College.