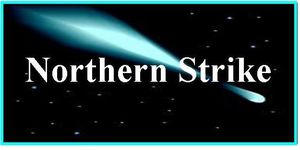 Nineteen Air National Guard units from seven different states will gather July 9-20, 2012 to participate in Northern Strike 2012. Northern Strike 2012 is an Air National Guard sponsored training exercise emphasizing air-to-ground operations that will prepare ANG, ARNG, and Active Component fighter, bomber, mobility, and rotary aircrew, ANG and Coalition Tactical Air Control Party (TACP), Air Support Operations Center (ASOC), Air and Space Operations Center (AOC), Combat Weather, Medical, and Intelligence personnel to conduct direct combat operations.
The focus of the exercise is to provide requirements based training emphasizing day and night Close Air Support (CAS), Combat Search and Rescue (CSAR), Air Refueling, Air Drop, and Medical Evacuation missions utilizing Operation Enduring Freedom (OEF), Major Combat Operations (MCO), and Counterinsurgency (COIN) scenarios.
The exercise runs for two weeks and more than 300 fighter, bomber, mobility, and rotary sorties are planned in order to meet stated objectives for participating units. In addition, more than 30 Joint Terminal Attack Control (JTAC) team members will receive advanced training during the 12-hour daily flying window.
"I am thoroughly impressed with the way this huge exercise came together," said MG Gregory Vadnais, The Adjutant General of the Michigan Army and Air Guard. "Col Teff and his staff in Alpena have a state-of-the-art, world-class training facility; a perfect location for Northern Strike 2012, the first-ever Air National Guard sponsored exercise hosted in the state of Michigan."