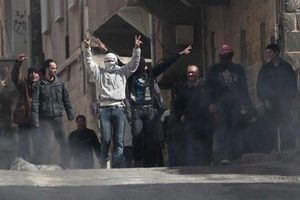 At least five people have been killed near the central city of Homs in the latest outbreak of violence in Syria.
The
London-based
Syrian Observatory for Human Rights said on Saturday that two protesters were killed in Kiswa, which is located 15 kilometers (10 miles) south of the capital, Damascus, during funerals held for demonstrators who lost their lives on Friday, Reuters reported.
Three others were reportedly killed during house-to-house searches in the Barzeh district of Damascus and in the town of Quseir, a village west of Homs.
The Syrian Observatory for Human Rights has identified the dead as civilians, but Press TV cannot independently confirm the reports.
On Friday, at least 12 people were killed and many others injured in several Syrian cities, including Damascus, after thousands of people took to the streets across the country to demand reforms.
Opposition activists said Syrian security forces opened fire on protesters, while Syria's state TV blamed the killing on armed gangs, saying a number of police officers were also among the victims.