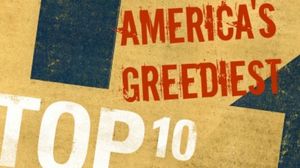 The headlines haven't been particularly kind to America's most relentlessly greedy over the past year. In just the last month alone, the world's two most visible religious leaders - Pope Francis and the Dalai Lama - have once again dramatically denounced our global concentration of income and wealth. And the world's most powerful political leader, Barack Obama, has chimed in, too.
The impact on America's super rich - and super-rich wannabees? Not much. They haven't even deigned to slow their grabbing.
At "Too Much", the Institute for Policy Studies weekly on excess and inequality, we've been taking names. Lots of them. The greediest of them all? We think we can make a good case for the ten below. We hope you'll find some useful insights from our choices - and maybe even some new incentive to help make our world a more equal place.
10. Angela Spaccia: Pint-Sized Pilfering
We start this year's top ten with garden-variety greed, the sort that inevitably grows in the shadows of escalating grand fortunes. In that shade, people in positions of modest power and authority regularly - and clumsily - try to emulate the avaricious high and mighty they see all around them.
In Bell, a small Los Angeles County working class community, that modest power and authority once belonged to Angela Spaccia. As Bell's assistant city manager for a seven-year span that ended in 2010, Spaccia helped stuff hundreds of thousands of dollars into the pockets of the city's top officials, including herself. Spaccia in one year alone took in $564,000.
Prosecutors eventually caught up with Spaccia and her pals. Her boss, the Bell city manager, cut a plea deal in October to 69 corruption charges. He pulled in $1.18 million in his most lucrative year. Spaccia chose to go to trial instead, claiming she did nothing illegal. "Everyone's greedy," her defense attorney argued in November. "There's no crime in taking too much money."
Jurors disagreed. Last week, they found Spaccia guilty on multiple counts of criminal behavior, including one misappropriation of public funds designed to pump $15.5 million in pension checks to Spaccia and her boss.