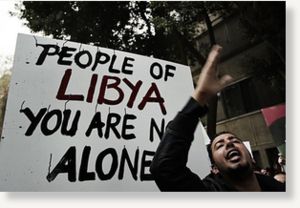 Tripoli - Libya's unrest spread to the capital Tripoli on Sunday after scores of protesters were killed in the second city Benghazi, which appeared to have slipped out of control of forces loyal to strongman Muammar Gaddafi.
Gaddafi has attempted to put down protests with a violent crackdown, triggering some of the worst bloodshed in the two months since unrest began sweeping across the Arab world.
In the first sign of serious unrest in the capital, thousands of protesters clashed with supporters of Gadaffi in Tripoli. Gunfire could be heard and police using tear gas to disperse the demonstrators.