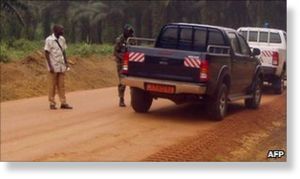 Cameroon has banned night-time public transport between cities after a spate of deadly accidents last year, many involving heavy drinking on the country's infamously poor roads.
"Night traffic represents just about 5 percent of human transport, but represents 35 percent of road accidents," Aoudou Dotel Moussa, director of land transport at the Cameroon transport ministry, said Monday.
Cameroon, the largest economy in the Central African region, has one of the continent's poorest road networks, with less than 20 percent of the country's roads asphalted.
About 1,258 people died in accidents in 2010, with another 5,000 wounded, according to the government, which blames many of the incidents on drunk-driving and speeding.
Vegetable hawkers said the plan to cut inter-urban bus service between 2100 and 0500 GMT will put them out of business, making it impossible for them to get produce to market without it wilting in the midday heat.
"I am finished. This is too bad for me and my children," said 49-years-old Grace Teboh who added that she'll not afford to send the children to school in September.