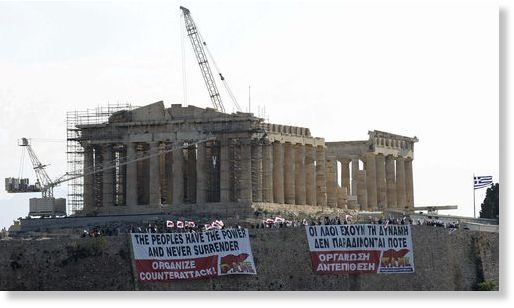 Greece will be shut by another 48-hour general strike organised by the trade unions, as the Pasok ruling party and prime minister George Papandreou try to convince parliament to support the second austerity package due to be passed on June 29 2011.
All public transport except for the Athens metro system will be shut on June 28-29, and public services will also be disrupted. The strike will affect buses, trolley buses, the tram, trains, the suburban railway and the Kifissia-Piraeus electric railway. Additionally, air traffic controllers are to join the industrial action from 8am until noon and once again from 6pm until 10pm, the Greek daily Kathimerini reported.
The Greek government will attempt to pass a second round of austerity measures on June 29 to qualify for another bail out from the International Monetary Fund and the European Union.
If the government fails to pass the austerity measures, Greece will go bankrupt. The proposed measures will affect the public sector and will consist of the sale of assets as well as higher taxes and more spending cuts.
Massive protests are expected on the streets of central Athens and outside Syntagma Square in front of the parliament building, protests which have the potential to turn violent judging from the past.
According to the Greek prime minister, the 28 billion euro austerity programme is essential to revitalise the Greek economy, but whether the measure will be approved is far from certain.
The measures for the austerity plan might fail to go through because Pasok MPs have threatened to oppose it. Greek finance minister Evangelos Venizelos has to ensure that all 155 Socialist MPs support the mid-term fiscal plan when parliament votes on it midweek, the BBC reported.
Alternatively, the EU and IMF could withhold loans with the result that Greece would go bankrupt within weeks.
Meanwhile, in the midst of the worsening economic situation in the country, right-wing groups are venting their anger not only at the country's politicians but also toward tens of thousands of immigrants living in the capital, the VOA reported.
With unemployment in the country reaching as high as 24 per cent, discontent and disenchantment in Greek society are rife.
Many blame rising crime and unemployment on immigrants. Simultaneously, the immigrant community claims that the Greek authorities do very little to protect them from such xenophobic attacks and that they even encourage racist attacks against them, the VOA said.
The latest wave of assaults against immigrants from African countries, and Sri Lanka and Afghanistan, have come in the aftermath of the killing of a Greek citizen by foreigners after he was mugged.
Greece, like Italy, is taking the full force of the newest wave of immigration from North Africa because of armed conflicts in the region and authorities say that Greece cannot cope with the rising number of asylum seekers.