BERKELEY, Calif. (AP) - Sharp-eyed dog walkers along the San Francisco Bay waterfront may have spotted a strange-looking plane zipping overhead recently that that looked strikingly like the U.S. stealth drone captured by Iran in December.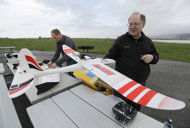 A few key differences: The flying wing seen over Berkeley is a fraction of the size of the CIA's waylaid aircraft. And it's made of plastic foam. But in some ways it's just like a real spy plane.
The 4 1/2-foot-wide aircraft, built by software engineers Mark Harrison and Andreas Oesterer in their spare time, can fly itself to specified GPS coordinates and altitudes without any help from a pilot on the ground. A tiny video camera mounted on the front can send a live video feed to a set of goggles for the drone's view of the world below.
"It's just like flying without all the trouble of having to be up in the air," Harrison said.