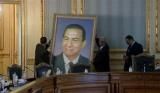 A new survey of Egyptians' attitudes two months after President Hosni Mubarak's departure depicts a society in which the Muslim Brotherhood is broadly popular, the United States is not, and more than half the country would like to scrap Egypt's peace treaty with Israel.
Muslim respondents in the poll, conducted by the Pew Research Center, were almost equally divided between those who say they agree with Islamic fundamentalists (31 percent) and those who say they do not (30 percent).
Sixty-two percent said Egypt's laws should strictly follow the teachings of the Qur'an, while only five percent said laws should not be influenced by Qur'anic teachings. Another 27 percent favored another option - that laws should follow the values and principles of Islam but should not strictly follow the teachings of the Qur'an.