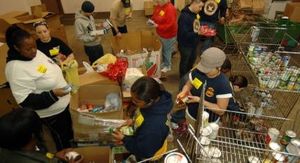 Debt-ridden households could kill off economic recovery when interest rate rises, says Resolution Foundation
The number of people who will turn to food banks for sustenance is expected to double this Christmas, as a new report warns that millions more families face a financial "precipice" due to high personal debts, flatlining wages and future interest rate rises.
With three new food banks opening every week in the UK, the charity that oversees Britain's 292 emergency outlets, the Trussell Trust, says it expects to feed 15,000 people over the Christmas fortnight alone, almost double the number last Christmas.
At the same time, a study published by the Resolution Foundation, an independent thinktank, says millions of households with low to middle incomes will be pushed close to the edge if they are unable to reduce their debts, including mortgages, before the cost of borrowing returns to more normal levels.