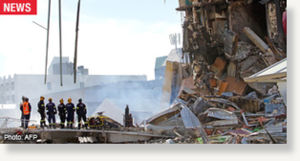 The first text message said: "Mommy, I got buried." About 40 minutes later: "Mommy, I can't move my right hand." Then, a brief call from New Zealand's earthquake rubble to parents in the Philippines pleading to send help.
After another harrowing hour in a crumpled building, when she sent a half-dozen more texts about increasing pain, continued shaking and overwhelming smoke, came the final one: "Please make it quick."
That was the last the Amantillo family heard from 23-year-old student Louise Amantillo, who is among dozens of foreigners missing after their language school disintegrated in Tuesday's collapse of the prominent CTV building in Christchurch.