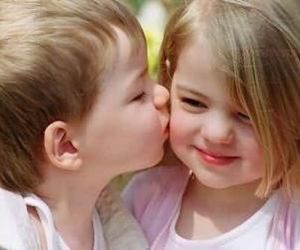 Hunter Yelton, a six-year-old boy in Canon City, Colorado, had a big crush on a girl in his class, so he thought there was
nothing wrong
with giving her a kiss on the hand. He had previously given her a kiss on the cheek. The girl was seemingly unfazed, but the school was not happy with it. Now, the first grader has been suspended for what school officials call sexual harassment.
"She was fine with it, they are 'boyfriend and girlfriend'," said Yelton's mother Jennifer Saunders. "The other children saw it and went to the music teacher. That was the day I had the meeting with the principal, where she first said 'sexual harassment'. This is taking it to an extreme that doesn't need to be met with a six year old. Now my son is asking questions... what is sex mommy? That should not ever be said, sex. Not in a sentence with a six year old."
Most would agree with Saunders that it was an innocent kiss between two young children, but school officials don't see it that way, and now the six-year-old will have sexual harassment on his school record.
"How can you do this? How can you say this about my child? Remove sexual harassment, remove it from his record. I'm going to stand up and fight for him because that's not the case, that's not what happened at all," said Saunders.