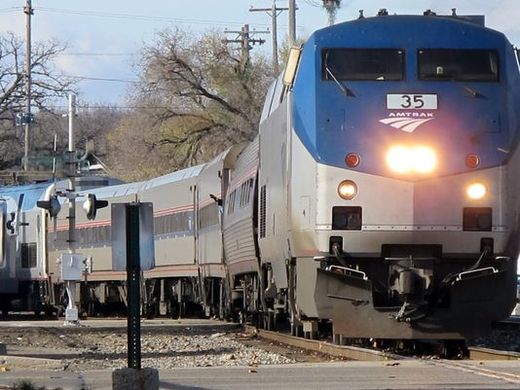 A man has been charged with four counts of attempted murder after a stabbing aboard an Amtrak train in Niles, Mich., police said Saturday.
Police identified the man as Michael Williams, 44, of Saginaw, Mich. He is being held in the Berrien County Jail in lieu of $1 million bail.
Officers confronted Williams, who was carrying a knife, on board the train Friday evening, subduing him with a stun gun before his arrest.
Police have yet to disclose a possible motive in the attack.
The multiple stabbings occurred on a
Chicago-to-Port Huron Amtrak passenger train
carrying 172 passengers Friday night in Niles, Mich., west of Battle Creek.
Four stabbing victims
were taken to area hospitals - Lakeland-Niles Hospital and to the larger Memorial Hospital in South Bend, Ind., about 10 minutes away, a police dispatcher said.
The victims - whose identities were not immediately known - included
the train's conductor, a female passenger and two male passengers
, said Niles Mayor Michael McCauslin. All four victims were in stable condition Saturday, according to Niles Police Chief Jim Millen.
The shock of the
onboard train stabbing
was just beginning to fade for Dave Mackenzie when he arrived at the Amtrak station in East Lansing, Mich., at 3:30 a.m. Saturday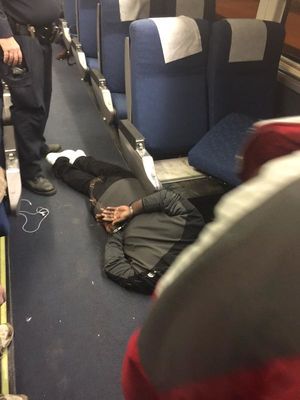 Nearly 10 hours earlier, Mackenzie was sitting in business class when a train conductor and three passengers were stabbed in a train car next to his in Niles, Mich.
"I couldn't hear anything, didn't really know what had happened," Mackenzie said. "When we got to Niles, the police cars came, the fire department was there. There were two or three ambulances there. We were just there for a long time and waited for them to finish investigating."
Passenger Caitlin Cipri told the
South Bend Tribune
she was packing her things to get off the train when she heard screaming. She initially thought the suspect was punching a passenger until she saw the butt of a knife. Cipri said she then saw the man stab two other people.
"It was terrifying, and you don't think something like that is going to happen to you," Cipri said. "It's terrifying that things like this happen."
Scores of Amtrak passengers were stuck at the Niles train station for hours after the attack occurred around 7 p.m. Friday while police combed their parked train for evidence.
Passengers in the car where the stabbings occurred were evacuated and questioned, while those in the rest of the train stayed put and waited in their seats for hours.
Jason Evans was asleep when the stabbing occurred about five train cars away from his seat.
"They woke us up and told us we were going to be there for a while because they just had arrested someone on the train. We were kind of wondering if we heard the guy right that there had been someone who had been stabbed," Evans said as the train left Niles around 1:15 a.m. "We all just kind of stayed in our seats."