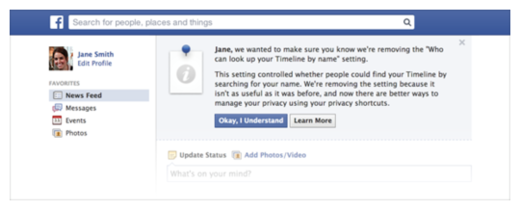 In an earlier, simpler time, Facebook FB +2.87% had a quaint little privacy option that let users opt out of being found in searches. It allowed the rare hermit types who embraced social media to have a profile on the site that could not be found by strangers, or even in some cases, contacts and friends. Like an invisibility cloak, it allowed them to be on the site but only to open the cloak - and friend people - when they chose. It was a popular option among privacy-loving types and celebs.
Facebook took away that Harry Potter-like option from its privacy settings
last year
. But anyone who had donned the invisibility cloak previously - such as Selena Larson at ReadWrite - got to hold onto it... until now. Facebook says it's yanking away the cloak from the remaining privacy hold-outs.
"The search setting was removed last year for people who weren't using it," wrote Facebook's chief privacy officer Michael Richter in a
blog post
Thursday. "For the small percentage of people still using the setting, they will see reminders about it being removed in the coming weeks."