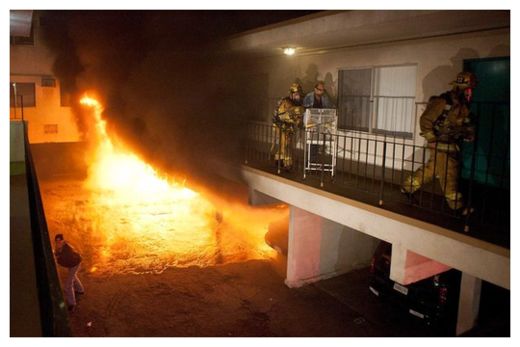 After a night when nearly 20 cars were torched in Hollywood, in parking areas under apartment buildings or beside homes while people slept, area fire stations called in extra staff and increased patrols on Friday evening, awaiting a second strike, fire officials said.
Just after midnight, it came. By dawn on Saturday, more than a dozen additional cars had been charred in different neighborhoods, again, it appeared, because they were underneath or near people's homes, according to Capt. Jamie E. Moore, a spokesman for the Los Angeles City Fire Department.
"It's alarming," Captain Moore said, "especially since it is happening between midnight and 6 a.m., when people are sleeping."
Sgt. Keith Green of the Los Angeles Police Department said that no arrests had been made by Saturday evening but that more than one person had been detained and questioned. No one was seriously injured.
Nicole Nishida, a spokeswoman for Los Angeles County Sheriff's Department, said that the fires appeared to be arson.