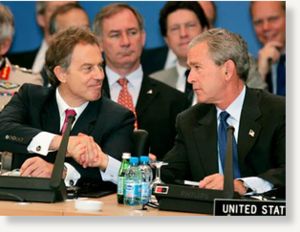 "The only thing necessary for the triumph of evil is for good men to do nothing."
- Edmund Burke
Having researched the 9/11 cover-up full-time for several years and done my bit as an activist, I had finally decided to withdraw in utter frustration at my seeming inability to open as many eyes as I would have liked. Following a rather long hiatus, I find myself back in the saddle.
Especially in the face of these ongoing illegal wars that continue to devour lives at a sickening rate, I've come to realize that efforts to help expose the truth behind 9/11 must transcend personal considerations. Given that it is 9/11 that lies at the root of this horrific slaughter of innocents in distant lands (now well over a million), I truly believe this is a vitally important, selfless, pursuit that embodies the highest form of patriotism and public service imaginable.
Besides, it is impossible to function normally in the "matrix" once you've swallowed the red pill. There's simply no going back to the world of illusion when Truth stares you in the face at every turn. I am cursed with a constitution that will not allow me to drift along pretending all's well when I know beyond a doubt we've been deceived en masse by a cadre of criminals in our midst.