Canada - Quebec's newly-elected Premier Pauline Marois has been rushed off stage during her acceptance speech, after shots were heard inside Montreal's Metropolis concert hall. One man is reported dead.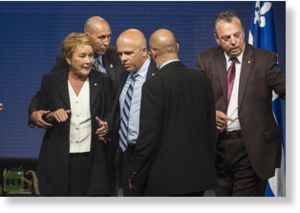 Another person is in a critical condition and one more witness is being treated for shock, Montreal police have informed Canadian media.
Ian Lafrenière stated that the dead man was in his 40s and that two guns were recovered at the scene, but there was no reason to believe there was more than one shooter.
After firing shots the gunman started a fire behind the downtown Montreal venue where Marois' supporters had gathered, Reuters reports.
Video has emerged, reportedly showing a man in a blue bathrobe and black balaclava with a gun on the ground surrounded by police. Video footage showed a high-powered rifle, which Twitter users identified as an AK-47 or Valmont Hunter weapon.
The gunman is said to be 50 years old and was apparently shouting "the English are waking up" in French with a Canadian-English accent as he was subdued.
Marois heads the separatist Parti Quebecois, which seeks independence for the French-speaking province of Quebec.
The premier-elect returned to the stage a few minutes after she left it, urging her supporters who packed the hall to leave calmly, stating that "there was a little unfortunate incident," so as not to create panic. Everyone was evacuated and police are investigating.
"We don't know what was [behind] that event," police spokesperson Dany Richer told CBC. "Our investigators are going to meet with [the detained] overnight."