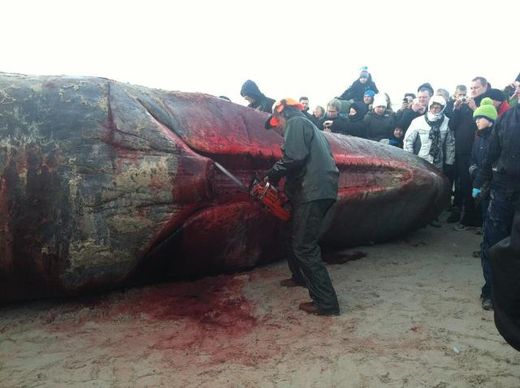 Translated by SOTT.net
Taxidermists puncture one of the stranded whales to reduce the explosion hazard in front of large audiences.
A large crowd of people were up early to see conservators from the Natural History Museum have the most rotten of two stranded sperm whales to explode.
It says whale expert Thygesen Jensen, itself come to Henne Strand to follow the process.
»Taxidermists prepare to puncture the most decayed - that is rotten - of the two stranded whales. When they do, there will definitely be definitely an explosion, because there is real pressure enclosed, "he predicted earlier in the day.
Grandparents take grandchildren to whale parting
Shortly before noon, we managed to crack the bloated whale. There is still a 'press' and the whale to be cut up in several places, so that the gases can escape.
More than 1,000 people, according Thygesen Jensen come to Henne Strand on the North Sea [Danish West coast], where the two sperm whales stranded this weekend. Particularly grandparents with grandchildren in hand had gone to visit the whales.
During Sunday it was possible for many Danes to take a crawl on one of the whales because it was so close to shore. It was also the most bloated, which willl now be punctured.
Whale Remains to be in a museum
The second whale could at first not be reached by the public because of high water, but Thygesen Jensen says that the water level has now fallen so much that it can also be reached on foot.
He understands the fascination of the two stranded marine animals.
"This is a once in a life time experience to see these giant animals. It is 30 years ago that two whales stranded same place in Denmark at the same time, "he says.
The two sperm whales stranded with about 700 meters apart.
Conservators from the Natural History Museum should recover and then dissect the large animals. After that whales included in the museum's scientific collections.

Comment: Linked article below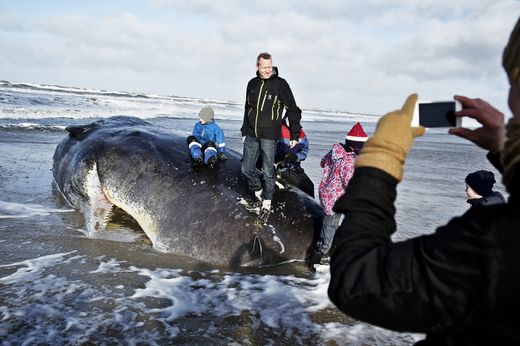 Eyewitness of the stranded whales: "People behave badly '
There is a lot of snapping of pictures at Henne Strand north of Esbjerg, where two sperm whales are stranded.
In particular, one of the two whales is being photographed. Preferably with the photographer's family located in a row in front or on top of the approximately 14-meter-long animal.
"It is quite shocking actually. Entire families are photographed while they are at it, "says Abelone Bergløv who has come with a friend to watch the two whales with their own eyes.
They are not the only ones who have got the idea. South Jutland Police wrote earlier today via their Twitter account that there have been massive traffic problems in Henne area.
Here are all kinds of people. It's a bit of folk entertainment where people traverse back and forth between the two whales, "said Abelone Bergløv.
Especially families that have winter holidays, chose to spend the day at the beach.
"But people behave bad out here. Both adults and children climb onto the dead whale, "she says.
Opened with a chainsaw
Biologists are just beginning to cut a hole in the dead sperm whale with a chainsaw.
"I could hear people shouting 'yuck'. It smells quite a bit, "said Abelone Bergløv from her place on the beach.
While the two friends kept in line on the way to the beach, several excavators drove past. They have now been told that the machines has helped to pull one whale up on shore.
The second whale is still alive and is in the water, where it will stay until it dies. It is expected to be hauled to land by tomorrow, writes Ritzau.
The dead whale washed ashore Saturday, while the other showed up a day later.