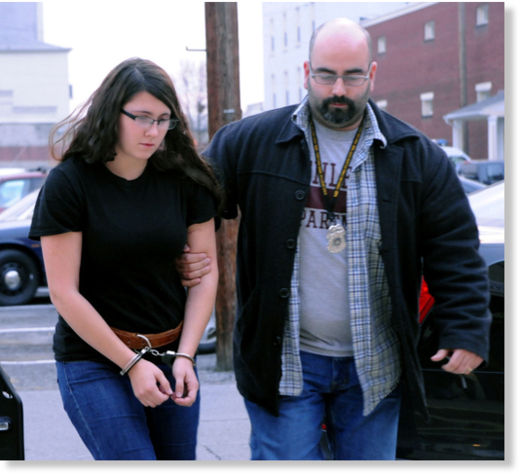 A Pennsylvania woman charged with her newlywed husband with killing a man they met through Craigslist admitted to the slaying in a jailhouse interview with a local newspaper and said she has killed more than 20 other people across the country. Police said investigating.
In an interview with
The Daily Item
in Sunbury, 19-year-old Miranda Barbour said she wants to plead guilty to killing Troy LaFerrara in November. She also said in the interview that she has killed at least 22 other people from Alaska to North Carolina in the past six years as part of her involvement in a satanic cult.
"I feel it is time to get all of this out. I don't care if people believe me. I just want to get it out," Barbour told the newspaper for a story published on Saturday.
Sunbury Police Chief Steve Mazzeo told the newspaper that investigators are aware of Barbour's claims of involvement in other murders. He said they are "seriously concerned" and have contacted police in other jurisdictions.
In a statement issued yesterday, the FBI's Philadelphia division said it had been in contact with Sunbury police and "will offer any assistance requested in the case."
Barbour's attorney did not return messages left at his office yesterday. Mazzeo did not respond to a message seeking comment left at his office yesterday.
Attorneys for Barbour and her husband, 22-year-old Elytte Barbour, have sought psychiatric evaluations for both their clients.
Mrs. Barbour's attorney also asked a judge last week to toss out statements she made before she was charged. Public defender Ed Greco said in the motion that Barbour wasn't afforded an attorney despite repeated requests during two police interviews.
Barbour said in the jailhouse interview that she wanted to plead guilty at her arraignment, but that Greco pleaded not guilty for her.
Prosecutors are seeking the death penalty for both defendants in LaFerrara's killing.
Mrs. Barbour, a petite woman with long brown hair, told investigators she met the 6-foot-2, 278-pound victim after he responded to her Craigslist ad offering companionship for money.
Mr. Barbour told investigators they committed the crime because they wanted to kill someone together, according to court papers. The couple, who were married in North Carolina and moved to Pennsylvania about three weeks before the crime, told police that Mrs. Barbour stabbed LaFerrara in the front seat of her car while her husband held a cord around his neck.
Mrs. Barbour said in the interview that she doesn't want to get out of jail and that she would kill again if released. She said she had no remorse and killed only "bad people."
Mrs. Barbour offered little detail on the murders she claimed to have participated in in Alaska, Texas, North Carolina and California.
She claims she joined a satanic cult in Alaska when she was 13 before moving to North Carolina. Online records for the woman that the newspaper identified as Barbour's mother show her as having lived in both Alaska and North Carolina.
Source: AP