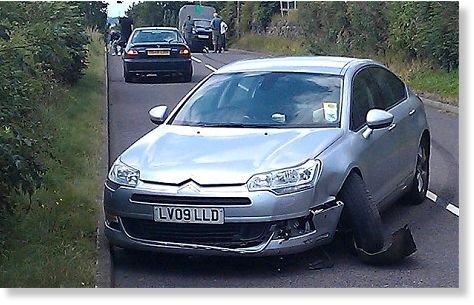 Motorist Robert Gould is lucky to be alive after a startled cow leapt over a three-foot fence and landed on his car.
The frightened Friesian has written off Robert's Citroen C5 after denting the bonnet and breaking a wheel after bounding onto the busy road.
Stunned police later breath-tested Robert after he called 999 to report the collision.
It is understood the cow which died at the scene had been trying to escape from a farmer when it jumped into the road on the outskirts of Leek, Staffs.
Robert escaped with cuts and bruises despite skidding almost 80 yards and ending up on the wrong side of the road as he tried to stop.
The 24-year-old said: "I am now looking out for low-flying cows when I am driving ."