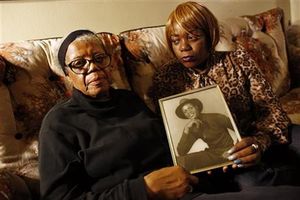 Jerome Murdough was just looking for a warm place to sleep on a chilly night last month when he curled up in an enclosed stairwell on the roof of a Harlem public housing project where he was arrested for trespassing.
A week later, the mentally ill homeless man was found dead in a Rikers Island jail cell that four city officials say had overheated to at least 100 degrees, apparently because of malfunctioning equipment.
The officials told The Associated Press that the 56-year-old former Marine was on anti-psychotic and anti-seizure medication, which may have made him more vulnerable to heat. He also apparently did not open a small vent in his cell, as other inmates did, to let in cool air.
"He basically baked to death," said one of the officials, who all spoke on condition of anonymity because they were not permitted to discuss specifics of the case.
The medical examiner's office said an autopsy was inconclusive and that more tests were needed to determine Murdough's exact cause of death. But the officials, all with detailed knowledge of the case, say initial indications from the autopsy and investigation point to extreme dehydration or heat stroke