Former US defense secretary's memoirs express regret for saying 'stuff happens' over Iraq war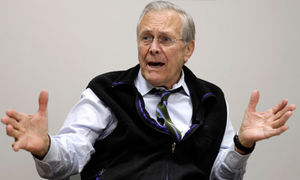 The former US defence secretary, Donald Rumsfeld, admits in his memoirs that he made a mistake in claiming that Saddam Hussein had weapons of mass destruction sites round Baghdad and Tikrit, one of the main justifications for launching the Iraq invasion.
Rumsfeld says now: "I made a misstatement." What he meant to say is there were 'suspect sites'.
The incident is one of many in the 815-page autobiography, Known and Unknown, in which he seeks to revise the history of the Bush administration on issues ranging from Iraq to the Guantánamo detention centre.
Rumsfeld is one of the most controversial figures of the Bush era and his autobiography has long been awaited.
The Guardian
obtained an advance copy.