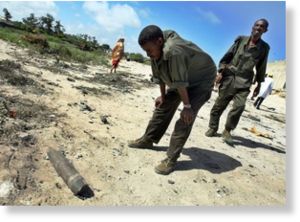 Anti-landmine activists in western Uganda were stunned to discover a primary school using an unexploded mortar bomb as a bell, the group's coordinator told AFP on Monday.
"It was a big shock. When we arrived at the school we even found one of the students striking it," Wilson Bwambale, coordinator of Anti-Mines Network Rwenzori, said.
Bwambale said his team visited the 350-pupil Ikobero Model primary school, one kilometre from Uganda's border with Democratic Republic of Congo, last week after being tipped off by a curious community leader.
"The bottom was hollow, that is why they used it as a bell, but the fuse at the top was still live," Bwambale said. "Fortunately no one hit it with enough (force) to explode the bomb."