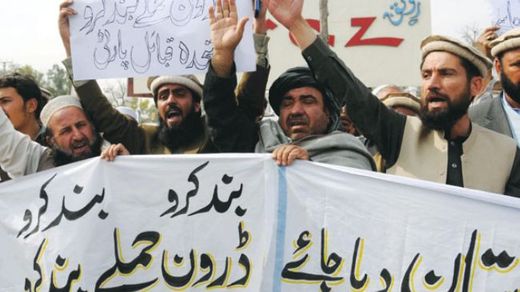 The United States may have to fly military equipment out of Afghanistan at an additional cost of $1 billion since the land route through Pakistan has been blocked due to anti-US protests in Pakistan, American officials say.
The US officials, who spoke on condition of anonymity, said
flying the military equipment out of Afghanistan to a port would cost five to seven times as much as it does to truck it through Pakistan
, the Associated Press reported on Thursday.
An unnamed defense official said sending the cargo through the routes in Pakistan would cost around $5 billion through the end of 2014, adding flying the equipment to ports in the Middle East would cost about $6 billion if it continued through next year.
Around one hundred trucks are at the border, and hundreds more are loaded and kept in compounds waiting to leave Afghanistan while dozens of Pakistani protesters have gathered on the overland route.
The blockade comes more than a week after Islamabad officials promised US Secretary of Defense Chuck Hagel that they would take "immediate action" to resolve the issue.
The protesters, who are furious at US drone attacks in Pakistan, say the assaults have killed thousands of innocent civilians and left their families in an endless mental trauma.
The demonstrators gather daily at a tollbooth on the outskirts of the city of Peshawar, in Pakistan's northern province of Khyber Paktunkhwa. All traffic going into the tribal areas and on to the Torkham crossing must pass through the tollbooth.
Demonstrators stop and check container trucks going into Afghanistan to make sure they are not carrying supplies for US-led foreign forces stationed in the country.
"We will continue this sit-in until there is a good decision on the drones
," said Fayaz Ahmed Khalid, a political organizer with the Pakistan Tehreek-e-Insaf party. "It's for ourselves, for our country."
He added that the protesters have been given instructions not to stop trucks coming out of Afghanistan into Pakistan.
Despite the Pakistani government's repeated calls on Washington to end the drone attacks, the US continues its strikes on the country's tribal regions.
Washington claims its drone strikes target militants; however, casualty figures clearly indicate that Pakistani civilians are the main victims of the attacks.