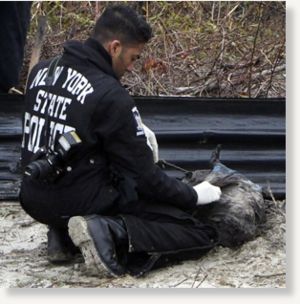 Cops scouring a Long Island beach-turned-graveyard found another set of grisly remains yesterday -- a human skull and torso that were at least a mile apart and might belong to the same body.
"It could be number nine, or it could be number 10, we don't know yet," a source told The Post, in regard to the increasing body count, which could be the work of a serial killer.
A State Police officer with a cadaver dog found the torso at 11:30 a.m. in Nassau County, five to six miles west of where eight other decomposed bodies have been found in Suffolk County since December, said State Police Capt. James Dewar.
Four hours later, a Nassau cop found bones in the JFK Bird and Wildlife Sanctuary at least a mile east of the torso.
"It appears to be a skull," Nassau Detective Lt. Kevin Smith said of the second find. "It's all been very startling. We have a lot of work to do."
The bones were taken to the Nassau County Medical Examiner's Office.
The latest grim discoveries came as roughly 125 Nassau and state cops teamed up to widen the search for missing New Jersey call girl Shannan Gilbert, 24, last seen screaming for help as she ran from the gated community at Oak Beach after meeting a john for sex.