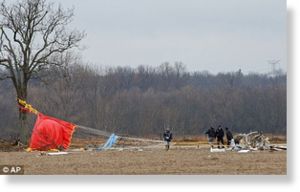 Four people were killed when a small plane crashed Saturday morning near Crystal Lake, Illinois, a northwest suburb of Chicago, officials said.
The accident happened at around 10:30 a.m. local time, according to Federal Aviation Administration spokeswoman Elizabeth Isham Cory. The Marion Pilots Club Inc. in Marion, Indiana is the registered owner of the plane, according to the FAA registry.
The FAA is still determining the point of departure and the intended destination. All four people on board were killed, Cory said.
The National Transportation Safety Board is leading the investigation into the crash, Cory said.
The Cirrus-SR20 plane was flying by "visual flight rules" or VFR, which means looking out the window, so the pilot was not talking with air traffic control, Cory said.
Cory said further information about the crash would come from the McHenry County coroner's office, which was not immediately available for comment.