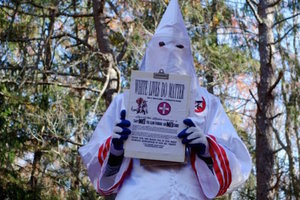 In the wake of Donald Trump's victory and the recent rise of the white nationalist "alt-right," a 150-year-old racist group has been spreading its wings: the Ku Klux Klan, which on Saturday is planning its first post-election rally.
"Our membership grows by the day," said Gary Munker, who identifies himself as a spokesman for the group. The Klan, since its creation in 1866, has called for a white and Christian America; historically, it has resorted to lynchings and racial violence as the means to its end.
Like the former KKK leader David Duke, who supported Trump's candidacy —
and was eventually disavowed by the New York billionaire
— Munker says he was drawn by the Republican candidate's language, particularly his attacks against immigrants and his talk of deporting millions.
The movement was born in the devastated states of the South in the immediate aftermath of the Civil War, just three years after President Abraham Lincoln ordered all slaves in the South to be freed.
Munker, wearing one of the group's emblematic hooded white robes, claimed that his branch of the KKK — the Loyal White Knights — has 700 members on Long Island, where he lives, and an additional 500 in the rest of New York state.