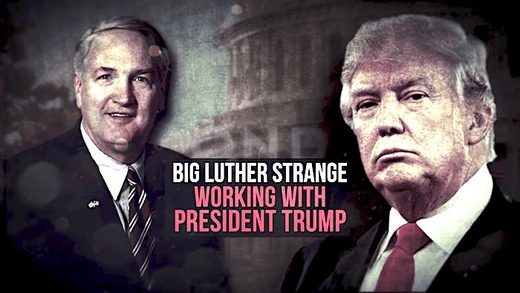 Donald Trump gave one of his signature stream of consciousness speeches in Huntsville on Friday night as he tried to get out the vote for embattled Alabama Republican senator Luther Strange.
During an address inside the Wernher Von Braun Center that lasted an hour and 20 minutes,
the president called North Korean dictator Kim Jong-un "Little Rocket Man", said NFL owners should cut players who kneel for the national anthem and returned to familiar targets like John McCain and Hillary Clinton.
Strange is facing a runoff election on Tuesday for the GOP nomination
to hold the seat he was appointed to in February. The former state attorney general was handed the seat after former senator Jeff Sessions was appointed attorney general by Trump.
Strange is currently trailing in the polls against Roy Moore, an ardent social conservative who has twice been removed as chief justice of the Alabama Supreme Court.