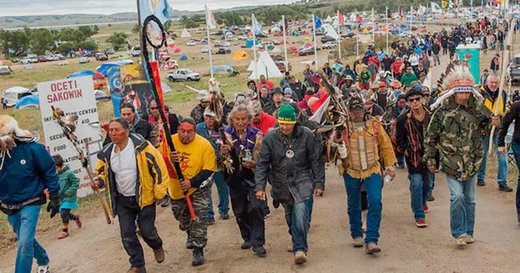 Authorities in North Dakota may be feeling the heat from the international attention the Dakota Access Pipeline is getting. They're now saying they lack the manpower to remove the encampment of protesters located on federal land near the controversial pipeline. The announcement may signal a softening of the treatment the protesters, up until now, have been receiving.
For months now,
The Free Thought Project
's spotlight has been shining on the, some might say, dark and dirty deeds of law enforcement and their treatment of largely Native American peaceful protesters. Attack dogs were unleashed on the protesters in September, injuring six, and an additional 30 protesters, including children, were sprayed with pepper spray. In all, more than 260 people have reportedly been arrested since the protests began in Morton County — over
100 this weekend alone.
The sheriff's office's announcement comes just two days after
The Free Thought Project
encouraged readers to contact Sheriff Kyle Kirchmeier's office demanding him to allow for peaceful protest, even providing a link to a petition for his removal. Spokeswoman Donnell Preskey told The Associated Press the department doesn't "have the manpower" to remove the more than 100 protesters from the property. "We can't right now," she said.