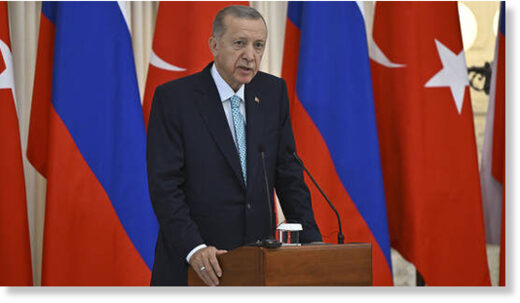 Turkish President Recep Tayyip Erdogan has argued that Russia is as trustworthy a partner for his country as the West is, pointing out - among other things - how the European Union has been giving Ankara the cold shoulder for decades over its membership aspirations.
In an interview with PBS on Monday, Erdogan was asked by the host, Amna Nawaz, whether he trusted the pledge made earlier this month by Russia to deliver one million metric tons of grain to Africa via Türkiye. The shipment is intended to help reduce prices in poorer nations after Moscow pulled out of the Black Sea Grain Deal back in July.
The Turkish head of state replied by saying he has "no reason not to trust them," adding that "to the extent the West is reliable, Russia is equally reliable."
"For the last 50 years, we have been waiting at the doorstep of the EU, and, at this moment in time, I trust Russia just as much as I trust the West," Erdogan explained.