Puppet Masters
Farrakhan goes on a rant on Chicago radio about Obama calling for Qaddafi to step down, this is from yesterday


---
Declan McCullagh
CNET News
Tue, 15 Mar 2011 10:51 UTC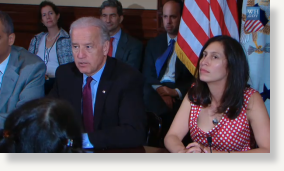 The White House today proposed sweeping revisions to U.S. copyright law, including making "illegal streaming" of audio or video a federal felony and allowing FBI agents to wiretap suspected infringers.
In a 20-page white paper (PDF), the Obama administration called on the U.S. Congress to fix "deficiencies that could hinder enforcement" of intellectual property laws.
The report was prepared by Victoria Espinel, the first Intellectual Property Enforcement Coordinator who received Senate confirmation in December 2009, and represents a broad tightening of many forms of intellectual property law including ones that deal with counterfeit pharmaceuticals and overseas royalties for copyright holders. (See CNET's
report
last month previewing today's white paper.)
---
Mubashir Hassn
The Nation
Sat, 19 Mar 2011 00:00 UTC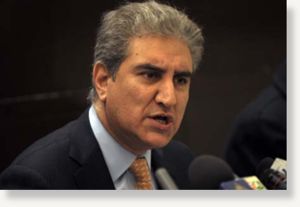 While asking the government to come clean about the mysterious release of US national Raymond Davis, former foreign minister Shah Mahmood Qureshi on Friday said that a few "rotten fish" cannot be allowed to pollute the whole pond and determine nation's fate.
"It is now time for honest, clean and visionary leaders to come forward and to remove the real rotten eggs from the party", Qureshi said in a defiant tone while speaking at "Meet the Press" programme of Lahore Press Club.
He held what he called "a few rotten fish" within the government responsible for the present mess the country was in, demanding cleansing of political parties and removal of rotten eggs from the PPP. "A very small group is bent upon damaging the whole democratic system", he said.
Despite reporters' insistence to expose those "rotten fish" and "rotten eggs" he was talking about, Qureshi confined himself to saying that "I am not carrying these in my pocket to show them to you". He said he was not here to point fingers at some body. He told the reporters that there existed a group within the PPP which lacked vision and futuristic approach. When asked if he saw any political change in near future, he said people wanted visible change in government's attitude and its style of governance.
Citing his recent visits to various parts of the country, he said that PPP workers were in a state of despair owing to wrong policies of their government. "Many told me that it was becoming highly difficult for them to defend their party's government at Mohallah and street level on different issues", he averred, adding that workers were annoyed with the government and party may suffer great loss in coming elections.
---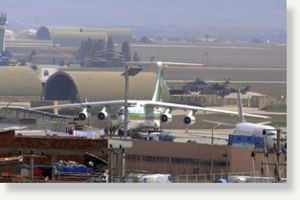 Turkey has intercepted an Iranian cargo plane flying to Syria, ordering it to land southeastern Turkey on suspicions the aircraft might have been carrying military supplies.
Turkish chemical, biological, radiological and nuclear search teams boarded the plane at the Diyarbakir airport and conducted a thorough search for hazardous substances. They reportedly only found 150 tons of food inside.
The Iranian plane was subsequently allowed to depart - allegedly for Aleppo, Syria.
But there are some confusing accounts surrounding the incident.
For one thing, Turkey's foreign ministry has denied reports the Iranian aircraft was forced to land by two Turkish F16 fighters.
The Iranian plane was reportedly operated by a private company, had two pilots and an unknown number of crewmembers on board.
The government of Iran has denied any links to the plane or its cargo. Tehran exports of arms or nuclear materials are subject to an embargo by the United Nations due to the government's refusal to cease its uranium enrichment program.
---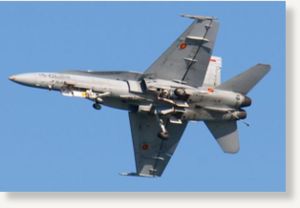 Spain, Norway, and Denmark have announced that they are joining the large-scale military intervention into Libya.
The Spanish Defense Ministry said on Saturday that the country has sent four F-18 fighter jets and a refueling aircraft to Italy to take part in the operation over Libya starting on Sunday, AFP reported.
"These planes will carry out patrol missions and will be operational from tomorrow (Sunday)," a statement issued by the Spanish Defense Ministry read.
On Saturday, Norway announced that six Norwegian F-16 fighter jets will be joining the Western-led military operations against Libya over the next few days.
The warplanes will take off right at the beginning of next week and will be based in Sicily, Italy, according to the announcement.
Denmark has announced that it will be contributing up to six F-16 warplanes and a transport plane for the Western-led intervention into Libya.
On Saturday, Danish Prime Minister Lars Loekke Rasmussen said parliament supports the decision to deploy warplanes to Libya.
Foreign forces launched airstrikes against Libya after officials of a number countries meeting in Paris on Saturday ordered a large-scale military intervention into the country in order to end the assaults on civilians launched by Libyan ruler Muammar Gaddafi's forces.

Comment: As major earth changes threaten the entire planet, the only thing our psychopathic leaders can think of is more war.


---
A bill that would ensure Utah students learn the U.S. is a compound constitutional republic - not a democracy - has passed both Houses of the Legislature and is now headed to the governor for his signature.

HB220 would require schools to teach students that the U.S. is a compound constitutional republic and about other forms of government such as pure democracy, monarchy and oligarchy along with political philosophies and economic systems such as socialism, individualism and free-market capitalism. The Senate passed the bill with no dissenting votes Monday.

And on Tuesday, the House agreed to wording changes made in the Senate.

The bill passed after weeks of debate over the differences between democracies and republics and whether socialism is a form of government or a philosophy.

Opponents of the bill argued that the concepts within it are already being taught and that the Legislature shouldn't get involved in curriculum matters.

But on Monday, Senate floor sponsor Sen. Mark Madsen, R-Eagle Mountain, said in some states children are being indoctrinated in socialism via some curriculum.

"This is happening at least in some places in our country, so I believe this is all the more important in this state, so that we can protect our children from such curriculum," Madsen said.
---
Gadhafi's forces attack rebels in Benghazi in defiance of U.N. resolution

Benghazi, Libya - French President Nicolas Sarkozy said allied air forces had gone into action on Saturday over Libya and were preventing Moammar Gadhafi's from forces attacking the rebel city of Benghazi.

"Our planes are already preventing air attacks on the city," Sarkozy said adding that military action supported by France, Britain, the United States and Canada and backed by Arab nations could be halted if Gadhafi stopped his forces attacking.

French fighter jets, flying reconnaissance missions across the north African nation, entered Libyan airspace to ensure that Gadhafi's forces would not take any action there. Sarkozy said "our determination is total."

On the ground, Gadhafi's forces had pushed into Benghazi, defying world demands for an immediate cease-fire and forcing rebels to retreat.



Comment: As major earth changes threaten the entire planet, the only thing our psychopathic leaders can think of is more war.


---
Ewen MacAskill, Patrick Wintour, Ian Black & Nicholas Watt
The Guardian
Fri, 18 Mar 2011 17:23 UTC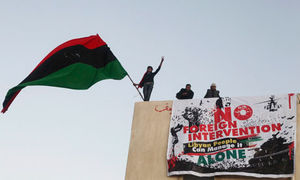 Libyan leader declares ceasefire after UN resolution
British PM vows 'this is not Iraq' but does not rule out ground troops
Rebels jubilant in Benghazi but fear for a divided nation
Muammar Gaddafi has been handed a "non-negotiable ultimatum" by Barack Obama to accept an immediate ceasefire, pull back from Libyan rebel strongholds and permit humanitarian assistance - or face the full onslaught of UN-endorsed air strikes.
In an attempt to reassure Middle East opinion and his own domestic audience, Obama said the US would help to co-ordinate a no-fly-zone, but not lead an operation that will include French, British and Arab jets.
The US president issued his warning after Gaddafi's foreign minister, Moussa Koussa, claimed he would accept a ceasefire in the wake of the UN security council resolution passed late on Thursday night authorising "all necessary measures short of an occupation force" to protect civilians.

Comment: "This is not Iraq," says the British PM. Famous last words?

As major earth changes threaten the entire planet, the only thing our psychopathic leaders can think of is more war.


---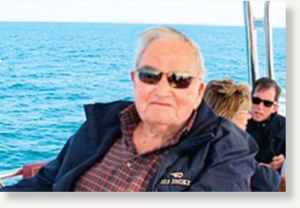 It seems that India has caught the fancy of American trillionaire David Rockefeller. We have learned that the 96-year-old, head of one of the biggest American business dynasties, is currently in the country with his family and is travelling all over North India.
We hear that the honcho landed in Delhi with more than two dozen relatives, including his children and grandchildren. The clan is learned to be keen on visiting famous Indian monuments and places like the Taj Mahal, Rajasthan and Delhi. Rockefeller is believed to have landed in Delhi and chartered three planes to tour the country.
---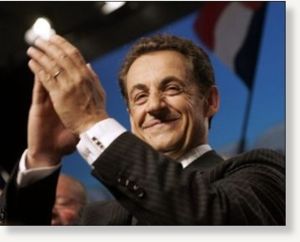 A report reveals that French President Nicolas Sarkozy worked for Israeli intelligence for a long time before he was elected president.
French daily
Le Figaro
has revealed the French leader once worked for the Zionist regime as a sayan, Hebrew for 'collaborator'.
Ex-Mossad agent Victor Ostrovsky says sayans, who perform many roles, are Jewish citizens of other nationalities assisting Mossad.
Le Figaro
claimed that French police officials managed to keep secret a letter, which exposed Sarkozy's past participation in espionage activities for Mossad.
---