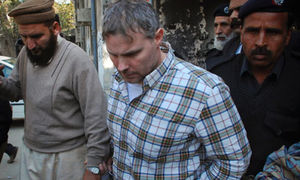 US reveals that CIA agent Raymond Davis worked for private security firm Xe, formerly known as Blackwater
US officials have provided fresh details about Raymond Davis, the CIA agent at the centre of a diplomatic stand-off in Pakistan, including confirmation that he had worked for the private security contractor Xe, formerly known as Blackwater. They also disclosed for the first time that he had been providing security for a CIA team tracking militants.
Davis was attached to the CIA's Global Response Staff, whose duties include protecting case officers when they meet with sources. He was familiarising himself with a sensitive area of Lahore on the day he shot dead two Pakistanis.