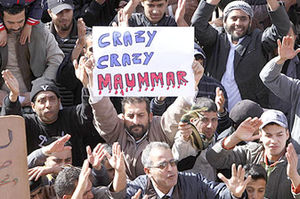 In a tough message hours after the UN slapped "biting" sanctions on the Libyan regime, US Secretary of State Hillary Clinton has told a bellicose Muammar Gaddafi to leave the country and end his regime as soon as possible. "We think he must go as soon as possible without further bloodshed and violence," Clinton told reporters as she headed towards Geneva to attend the UN Human Rights Council meeting on Monday.
"We want him to leave and we want him to end his regime and call off the mercenaries and those troops that remain loyal to him. How he manages that is obviously up to him and to his family," Clinton said.
"We have consistently in many conversations over the last week sent messages, and along with partners in the region and beyond have made it clear we expect him to leave. But we're not involved in any kind of negotiation with him over that," she said in response to a question.