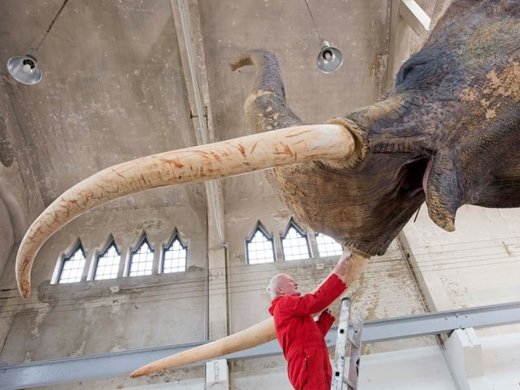 The genome of a mysterious ancient fossil has shaken up the elephant family tree.
Modern elephants are classified into three species: the Asian elephant (Elephas maximus) and two African elephants — the forest-dwellers (Loxodonta cyclotis) and those that live in the savannah (Loxodonta africana). The division of the African elephants, originally considered a single species, was confirmed
only in 2010
.
Scientists had assumed from fossil evidence that an ancient predecessor called the straight-tusked elephant (Paleoloxodon antiquus), which lived in European forests until around 100,000 years ago, was a close relative of Asian elephants.
In fact, this ancient species is most closely related to African forest elephants, a genetic analysis now reveals. Even more surprising, living forest elephants in the Congo Basin are closer kin to the extinct species than they are to today's African savannah-dwellers. And, together with newly announced genomes from ancient mammoths, the analysis also reveals that many different elephant and mammoth species interbred in the past.
"It's mind blowing," says Tom Gilbert, an evolutionary geneticist at the Natural History Museum of Denmark in Copenhagen. The straight-tusked elephant is little-known even among experts, he says. "And the first thing we hear about it is: here's the genome."