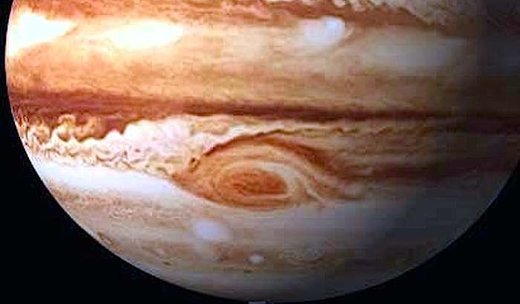 The
atmosphere above the gas giant's famous storm
is hundreds of degrees hotter than anywhere else on the planet and scientists are on the case. Temperatures 500 miles above Jupiter's famed Great Red Spot are far warmer than anywhere else on the planet, raising
suspicions that the massive storm is the mysterious energy source that is heating the giant planet's upper atmosphere.
Scientists have yet to understand why
Jupiter's upper atmosphere is about the same temperature as Earth's
though the planet is five times farther away from the sun. A new study points to the Great Red Spot, a gargantuan storm that astronomers have been watching with telescopes on Earth for more than 300 years, as the heat source.
Scientists used NASA's NASA Infrared Telescope Facility at the Mauna Kea Observatory in Hawaii to study Jupiter for nine hours in December 2012. They found a
spike in temperatures
over the Great Red Spot, a storm big enough to swallow three Earths that is the largest storm in the solar system.