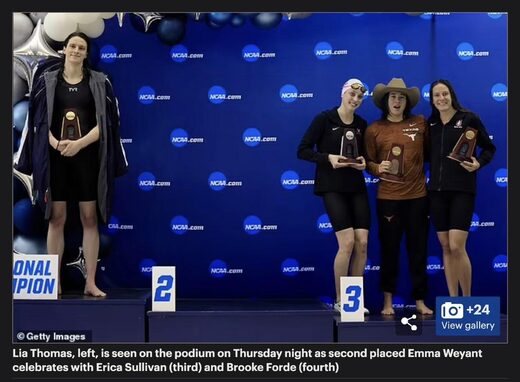 Conservatives have long been labeled "transphobic" for refusing to accept that "trans women are women," especially when it comes to the inclusion of biological men in competitive women's sports, but it turns out, even the National Institutes of Health (NIH) knows that even after a man medically "transitions," they have a significant "physiological advantage" over their female opponents.
The painfully obvious issue has sparked protests across the nation, with the LGBTQ+ community insisting there is nothing wrong with a hulking man smashing the records of female athletes, while actual females fight for the survival of women's sports.
If we truly are to believe "The Science," last August, the NIH re-shared what should have been the definitive word on the controversial subject.
According to a significant
study
, "Male physiology provides an athletic performance advantage."
"Most elite sports are divided into male and female divisions because of the greater athletic performance displayed by males," the study says. "Without the sex division, females would have little chance of winning because males are faster, stronger, and have greater endurance capacity."
"Male physiology underpins their better athletic performance including increased muscle mass and strength, stronger bones, different skeletal structure, better adapted cardiorespiratory systems, and early developmental effects on brain networks that wires males to be inherently more competitive and aggressive," the findings showed.
The study, conducted by experts from the University of Otago in New Zealand, notes that taking female hormones doesn't change these biological facts.
"Male physiology cannot be reformatted by estrogen therapy in transwoman athletes because testosterone has driven permanent effects through early life exposure," the study reveals.
In competitive sports, the authors argue, "muscle mass" can not be ignored.
"For many decades, it has been recognized that testosterone drives muscle mass and clear sex differences exist," they write. "For example, elite male athletes have, on average, more muscle mass than elite female athletes, for any given body weight."
The difference is significant.
"Males have approximately twice the cross-sectional area of upper body muscle, and 30% more cross-sectional area of lower body muscle relative to females," the study states.
There can be no doubt, the authors conclude:
"The former male physiology of trans women athletes provides them with a physiological advantage over the cis-female athlete."
In the interest of "fairness," the researchers found, "The inclusion of trans women in the elite female division needs to be reconsidered."
Again, it is absurd that it takes a bunch of researchers from New Zealand to point out what anyone with eyes can clearly see, but the NIH has previously published papers denying the advantage.
During the Trump administration, the federal agency shared a
study
that concluded, "there is no direct or consistent research suggesting transgender female individuals (or male individuals) have an athletic advantage at any stage of their transition (e.g. cross-sex hormones, gender-confirming surgery) and, therefore, competitive sport policies that place restrictions on transgender people need to be considered and potentially revised."
That study has since been used to counter arguments from athletes such as Riley Gaines, who claim biological men are destroying women's sports and stealing opportunities from biological females.
Meanwhile, the NIH is apparently trying to stay neutral.
"As a library, the National Library of Medicine (NLM) provides access to scientific literature," the NIH's disclaimer on the New Zealand study read. "Inclusion in an NLM database does not imply endorsement of, or agreement with, the contents by NLM or the National Institutes of Health."
Melissa Fine
is the former executive editor of Casino Player,
Strictly Slots
, and Poker Digest magazines. She is a UCLA graduate, news junkie, and dedicated Stargate SG-1 fan. Melissa currently lives with her dog and two cats in a tiny town in the Sierra Nevada foothills.