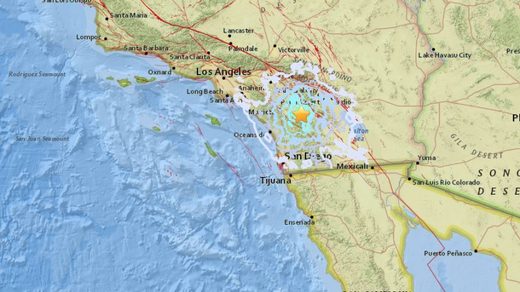 A 4.4 magnitude earthquake caught Californians off-guard after it hit an area southeast of Los Angeles on Aug. 14, according to the U.S. Geological Survey (USGS).
The small quake, which occurred at about 5:24 p.m. local time, was centered 4.3 miles north-east from Aguanga in Riverside County and was
felt by residents up to 50 miles away.
No damage or injuries have been reported.
Some locals took to social media to share their experiences.
In May this year, locals reported feeling a 3.5-magnitude earthquake
, which struck the Bay Area in the state.
BART, the local train service, said it put trains on hold temporarily for track inspection, according to
ABC7
. And MUNI, the municipal train service, went into manual mode for the same reason.
According to the USGS, t
he epicenter for that quake was centered
about two miles from Piedmont, four miles from Moraga, California, and about 12 miles from the San Francisco City Hall.
Locals from San Jose to Santa Rosa said they could feel the quake, according to the USGS online Community Internet Intensity Map. Those who lived near the epicenter
called the shaking "light" to "weak."
There were no reports of damage or injuries associated with that temblor as well.
The Epoch Times' Jack Phillips contributed to this report