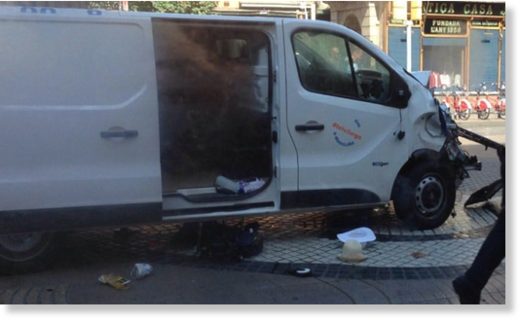 Up to 13 people are feared dead and dozens have been injured after a van crashed into a crowd of people in central Barcelona, as police confirmed that one suspected attacker has been arrested.
Catalonia's TV3 reported that 13 people had died and dozens were injured, but these numbers have not been confirmed by Spanish authorities. Catalan police have so far confirmed one death and said 32 people have been injured, 10 of them seriously.
Spanish police, who are treating the incident as a terrorist attack, said the "massive crash" happened on Las Ramblas in an area of the city popular with tourists.
This is the latest terrorist attack using a vehicle in Europe, following similar atrocities in Nice, Berlin and London that have claimed more than 100 lives in total.
Television pictures showed a crashed van stopped on top of a Joan Míro mosaic halfway down Las Ramblas. It reportedly entered the wide boulevard where it meets the Plaça de Catalunya, then drove towards the port area, meaning it would have covered more than 500 metres.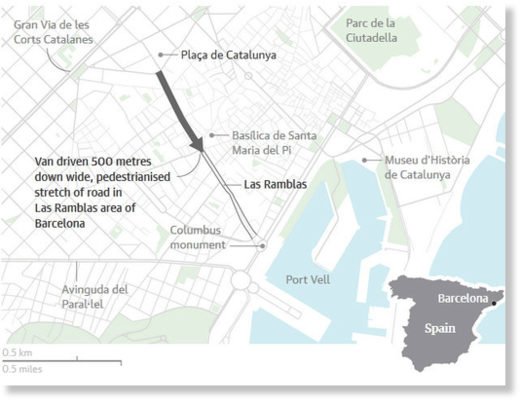 In a tweet, Catalan police confirmed they were dealing with a terrorist attack: "The terrorist attack protocol has been activated."
Spanish media reported that the Guardia Civil have identified the suspect thought to have hired the white Fiat van used in the attack. According to those reports, he is understood to be from north Africa but to possess a NIE, the identity document issued to foreigners who are resident in Spain.
There were separate reports that a suspect had been arrested, but it was not clear whether this referred to the same person.
A second van linked to the attack - assumed to have been used as getaway car - has been found in the small town of Vic in Catalonia.
The prime minister, Mariano Rajoy, cancelled his holiday in Galicia, north-west Spain, to return to Madrid. The Catalan president, Carles Puigdemont, and the mayor of Barcelona, Ada Colau, also cancelled their holidays and were returning to the city. The Catalan vice-president, Oriol Junqueras, said the regional government would hold an urgent meeting.
Puigdemont has called for "maximum caution" in the wake of the attack. He added that "all the attention" should be on the victims of the attack.
According to early reports, the vehicle sped down the centre of the 1km-long road, which is usually packed with people, until it hit a newspaper kiosk and stopped.
Witnesses spoke of panic and seeing people covered in blood. Several pushchairs could be seen abandoned at the side of the street.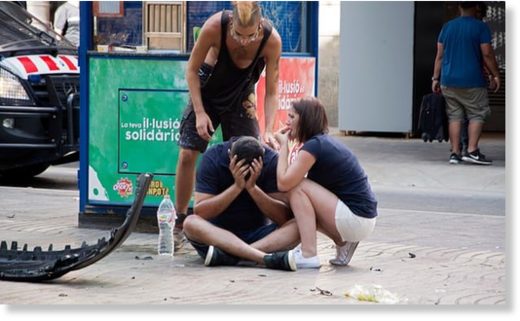 Jordi Lino, who was on a bus going down Las Ramblas, said: "First I saw people running and then the van. There were injured people in the middle of the Ramblas."
Lourdes Porcar told TV3 she saw the van running people over. "It was going very fast, without caring about who was in its way," she said.
TV3 said police sources had confirmed to it that one armed man was holed up in a Turkish restaurant near Las Ramblas and the Boqueria market.
But Catalan police said reports of gunfire in the Corte Inglés department store were untrue. They were advising people to follow official sources for updates.
Metro stations and shops close to site of the crash were closed.
The spokeswoman for a chain of 10 restaurants in the area said that about 600 people were stuck inside their establishments waiting for permission from the police to leave.
The Spanish newspaper
El País
, citing police sources, said
the driver of the vehicle fled on foot
.
Catalan emergency services said people should stay away from the area around Plaça de Catalunya. Police have also asked people to communicate via social media and messaging instead of phone calls, as mobile telephone coverage is saturated.