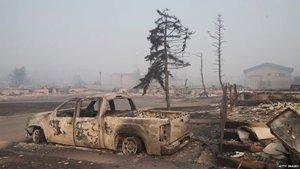 One of the largest wildfires ever observed in Canada, the area burned by the Fort McMurray wildfire in Alberta, aka 'The Beast', currently stands at over half a million hectares, has spread to neighboring Saskatchewan, and may not stop burning 'for months'.
Canada has seen bigger wildfires, but nothing like this has ever affected a populated area. Not since the
Great Fire of Valparaíso
in Chile in 2014 has such a large city taken a direct hit from a wildfire. Alberta Premier Rachel Notley initially said it 'could be two weeks' before residents of Fort McMurray would be allowed to enter the city and check out if their home/business was still standing.
Now she's saying it could be - at the earliest -
almost a month before anyone's allowed back in
(June 1st). And by the sounds of things, they may not be permitted to return until later still.
Oddly, a 'cone of silence' was imposed on the city shortly after the wildfire forced its entire population to flee on May 3-4.
Check out this clip from a
video report published by Canada's Global News
on May 9:
Selectively applied non-disclosure agreements? Carefully vetted media reports?
Ever since the city went up in flames, the media has repeated the Canadian authorities' claim that just 2,400 structures were destroyed, and that 90% of the city was 'saved'.
But if the city was substantially spared, why is it that "
Fort McMurray is not ready to resume its role of home to anyone yet
"?...
Fort McMurray faces long road to recovery
Globe and Mail, May 19, 2016

On Wednesday, access into the city remained tightly controlled, with police at exits of the main highway through town preventing vehicles from turning onto any streets unless authorized to do so.
No one is allowed in or out, and no one is allowed to report (unless without pre-approval, I presume) what they see there.
Very strange indeed.
I wonder... is the real picture the reverse? Was something like 90% of Fort McMurray destroyed?