About the nomad
Born in the UK, moved to Hong Kong at 23 to work on the Design of Chek Lap Kok Airport for Sir Norman Foster and Partners Primary role was the roof design and the modeling in 3d of the entire roof for design analysis's and clash detection.
Stayed in Hong Kong after the design was finished and started a Business Called Wave Digital imaging Ltd Specializing in 3d design services for Architects and Corporations.
closed the business after Five years due to a Government contract going sour, in fighting between departments and subcontractor of the Governemnt refusing to take responsibility for errors caused on there side leaving me to make 10 people redundant, and leaving me with debt's both personal and business. My first encounter with Psychopaths.
Unable to pay personal tax had to stay in Hong kong until it was payed, which took me 5 years. Returned to the UK to work in Architecture. Government all over are all the same. Take Take and take no blame!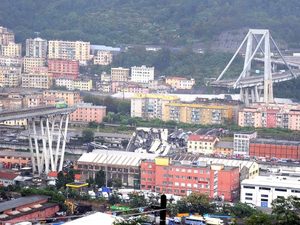 14 August 2018: Morandi Bridge in Genoa, Italy, collapses during a storm, killing 35 people
Shared pain is lessened; shared joy, increased - thus do we refute entropy.
- Spider Robinson
Recent Comments
Thank you. That was inspiring. America, you are sooo fucked. They convinced you that yours was the only way, then they robbed you of all your...
---
This Press group allowed for lies and propaganda about Marijuana to go unchallenged. Truly the largest conspiracy ever perpetrated EVER......
---
Chicago has 200 murders a week of blacks killing blacks and the sick liberal nation says nothing... Blacks kill whites every day, but again,.......
---
Sarah Jeong is on the New York Times editorial board even though she Tweeted about the joy she gets out of being "cruel to old white men." This...
---
Mainstream Media may not be fake ... But they are definitely LIARS.....