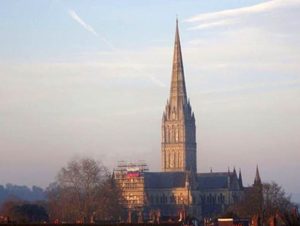 Salisbury Cathedral, 17 February 2019. Did you know? The spire is 123 meters tall, and famous throughout Europe...
When we talk about compassion, we talk in terms of being kind. But compassion is not so much being kind; it is being creative [enough] to wake a person up.
- Chogyam Trungpa Rinpoch
Recent Comments
Over a two-year period preceding the 2016 election, one hundred and twenty-six million Americans saw Russian-backed content. Facebook was at best...
---
I have never formally sworn allegiance to the Federal Republic of America, nor to sustain or uphold its Constitution, save for the brief period I...
---
If the Nazi Aeronautics and Space Administration says there is nothing to worry about....it is time to seriously panic...
---
"... magnetic field lines can get contorted..." There are no such things as field lines. This is a reification of a graphical representation....
---
Hairy KamelToe sleeps her way to the top [Link]