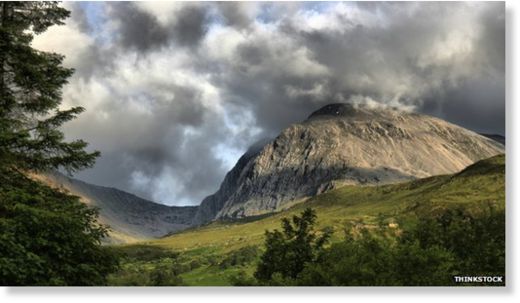 Hazards common in arctic and alpine areas but described as "extremely unusual" in the UK during the summer have been found on Ben Nevis.
A team of climbers and scientists investigating the mountain's North Face said
snowfields remained in many gullies and upper scree slopes.
On these fields, they have come across compacted, dense, ice hard snow call neve.
Neve is the first stage in the formation of glaciers, the team said.
The team has
also encountered sheets of snow weighing hundreds of tonnes and tunnels and fissures known as bergschrunds.
The large, deep cracks in the ice are found at the top of glaciers.
The team of mountaineers, geologists and botanists is recording wildlife and rock forms on the North Face.
Scottish Natural Heritage (SNH), Midland Valley Exploration and the Nevis Partnership, an organisation based at Torlundy, near Fort William, are involved in the three-year project.
So far, many new populations of rare fauna such as highland saxifrage, tufted saxifrage and wavy meadow grass have been recorded.
Lead survey botanist, Ian Strachan, said: "Many of the rare arctic-alpine species we are searching for are relics from soon after the last ice age.
"Ben Nevis and a few other peaks in the Scottish Highlands provide the most southerly refuge for some of these species which can only survive due to the altitude and presence of semi-permanent snow fields."
Cathy Mayne, of SNH, said work so far had exceeded the project team's expectations.
She said: "Not only have we gathered potentially ground-breaking geological data and significantly added to the known populations of arctic-alpine species, the team have also discovered alpine saxifrage, which has never been found on the mountain before."